Katie Ledecky broke a short-course world record for the second time in a one-week span, this time taking down the 800m freestyle record at a FINA World Cup meet in Indianapolis on Saturday.
Ledecky, the three-time Olympic 800m free champion, clocked 7 minutes, 57.42 seconds. She beat the previous record of 7:59.34 set by Spain's Mireia Belmonte García in 2013.
Ledecky already owns the 28 fastest 800m free times in Olympic-size pools, which are 50 meters long.
Ledecky and some other top Americans rarely race in 25-meter, short-course pools. This was Ledecky's third meet in a short-course meters pool since the start of 2014, and her first time ever swimming the short-course 800m free, according to USA Swimming's database.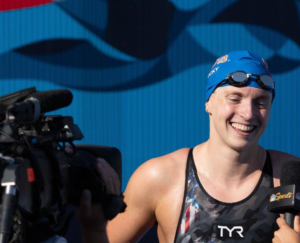 Last Saturday, Ledecky took nearly 10 seconds off the short-course world record in the 1500m free, swimming that event in a 25-meter pool for the first time.
In that race, she hit the 800-meter split at 8:00.58, an American record (by 7.09 seconds) that she just broke again.
Ledecky has broken 16 world records in individual events between short- and long-course, breaking her tie with Aaron Peirsol for the second-most among U.S. swimmers since 2000, according to Swimming Stats.
Images Sources
Instagram: @katieledecky
Text Sources: