James rewrites history to become the all-time leading scorer by passing Kareem Abdul-Jabaar for the most points scored in NBA history.
On Feb. 7, the Los Angeles Lakers faced off against the Oklahoma City Thunder in a regular season match-up. James, who has been averaging around 30.3 points per game this season, was projected to break the all-time scoring record around the February mark of the 2023 regular season. James ended up scoring 38 points against the Thunder to finally surpass Kareem Abdul-Jabaar's record of 38,387 points. A record that had not been close to being broken in over 39 years — a record that many NBA fans and analysts thought would never be broken.
James was able to break the record in fewer games than Abdul-Jabaar — only taking the Akron native 1,408 games to complete the feat. Former record holder, Abdul-Jabaar, was also sitting courtside during the Lakers-Thunder game where James was projected to pass him. James hit a fadeaway jumper to seal the record, and the referees officiating the game paused the match-up momentarily to pay tribute to James, allowing him to rejoice with his family and friends. James' pride was evident as he keeled over after making the shot with tears of joy and appreciation for the career he has had.
After the momentous event, social media went into a frenzy, with almost every well-known celebrity congratulating James and wishing him well for doing something that nobody thought would ever be done. Magic Johnson, Laker legend and the man responsible for bringing James to Los Angeles, congratulated his friend on a remarkable career and incredible landmark. NBA Commissioner Adam Silver issued congratulations to the superstar over Twitter and in person after the game. Along with the Lakers, the two previous organizations that James has been a part of — the Miami Heat and the Cleveland Cavaliers — also joined in on giving kudos to their former superstar.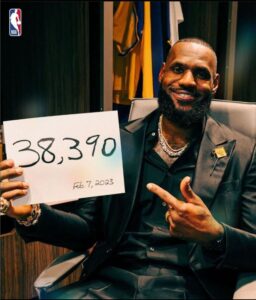 James has been able to remain a consistent superstar for the past 20 seasons. His longevity, and high performance, has cemented his talents among basketball's most elite. This record will only add to the extensive and impressive trophy case James currently bolsters. With so much already accomplished, James still finds ways to motivate himself to do more — a serious example of an elite work ethic.
Many fans are now saying that James has secured the title of being "the greatest player of all time," which is a debate that has been going on for years now. Fans and fanatics of the sport have always debated: Lebron or Jordan? As a spectator, it is quite humorous to see how many times this has been argued and how frequently it keeps coming up. Regardless of who everyone says is the best basketball player of all time, it is very clear that James has cemented his greatness and legacy with all basketball fans across the world. James breaking the record that nobody thought would be broken is truly something special. With so much fantastic young talent in the NBA, I guess we will have to see who comes close to breaking it next, although that probably will not occur for a while. James and the Lakers will celebrate this moment, but they have tougher roads ahead as they look to the upcoming playoffs in a rough 13th place position in the Western Conference.
A legendary status
After the game, TNT's Shaquille O'Neal asked James about whether he was the greatest player of all time.
"I am going to let everybody else decide who that is or just talk about it. It's great barbershop talk," James responded at first.
When O'Neal pressed, James said: "I am going to take myself against anybody who has played this game. But everyone is going to have their favorite, everyone is going to decide who their favorite is. I know what I bring to the table every single night and what I can do out on this floor."
"I always feel like I am the best to ever play this game, but there are so many other great ones that I am happy to just be a part of their journey."
James told TNT he still has more in the tank.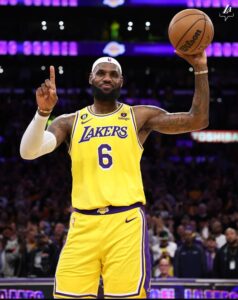 "I know I can play a couple more years. The way I'm feeling, the way my body's been reacting to me throughout this course of the season, I know I can play a couple more years."
"It's just all about my mind. If my mind is still into it, if I'm still motivated to go out and try to compete for championships, because I feel like that's what I can still do for any group of guys, for any franchise. I can go out there and still help win multiple championships or win a championship."
The scoring record was "something I never made a goal of mine or set out to do – it just happened," he said, and credited great teammates and great coaches that allowed him to be "me."
Luminaries from the NBA and beyond, including Dwight Howard, Paul Gasol and boxer Manny Pacquiao saluted him on social media.
Lakers legend Magic Johnson, who was at Tuesday's game and helped lure James to the Lakers in 2018 when he was the team's president of basketball operations, hailed James on Twitter as "such an amazing man on and off the court."
NBA's All-Time scoring list (Top 5)
LeBron James – 38.390 PTS
Kareem Abdul-Jabaar – 38.387 PTS
Karl Malone – 36,928 PTS
Kobe Bryant – 33,643 PTS
Michael Jordan – 32,292 PTS
Images Sources:
https://www.instagram.com/LeBron/
https://www.instagram.com/lakers/
Text Sources:
https://www.thejustice.org/article/2023/02/lebron-james-breaks-the-nbas-all-time-scoring-record-brandeis
https://www.bbc.com/sport/basketball/64563131#:~:text=James%2C%20a%2019%2Dtime%20All,five%20seasons%20for%20the%20Lakers.
https://edition.cnn.com/2023/02/07/sport/lebron-james-breaks-nba-scoring-record-spt-intl/index.html